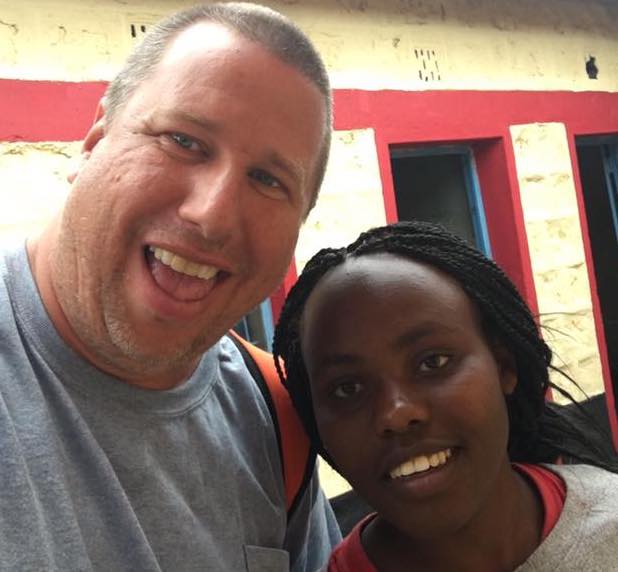 As Scott Dishong was serving in Kenya as a missionary, he would often visit an orphan care center. It was there that he met a little girl named Mary. He would often play with her, talk with her, and just be silly with her. One day, he stopped by the center while all the other children were at school—Mary was there by herself. Scott asked Mary why she wasn't in school and she got overwhelmingly embarrassed, put her head down, and wouldn't answer him. He asked her several times, but she would not say. So Scott went over to ask one of the workers at the center why Mary wasn't in school. They explained to him that, even though school was now free, Mary's family wasn't able to afford the school supplies that she needed to go. It made Scott so sad that poor Mary sat out of school all by herself for several weeks—all because she didn't have a few school supplies.

Scott asked what she needed and found out that all she needed was a notebook! So he got in his car and drove to the closest store. After handing the store clerk 1000 shillings (around $15 USD), Scott received 950 shillings in change. He realized that the notebook was only 50 shillings (just over 50 cents). It was at that moment that Scott's heart broke—that a 50 cent notebook is what prevented sweet Mary from going back to school. So he took that notebook, gave it to her parents, and explained to them that he wanted her to have it. Mary was able to go to school that day.
Soon after, Scott began to realize how many other children weren't able to go to school because they couldn't afford simple supplies, such as shoes, pencils, pens or backpacks. Scott realized that he wanted to do something about that. That's how Project Lucas got started. Scott and his wife Alisa came back to the US and, with some dear friends, started Project Lucas. The first time Scott and a few friends made a trip back to Africa, they decided to pass out backpacks with school supplies. They passed out 50 backpacks. There was big ceremony, with many guardians, parents, and city officials showing up. Scott, Alisa, and their friends were so excited to see the success of Project Lucas.



Afterward, as Scott, Alisa, and their friends were driving out of the village in a taxi, two African mothers who were on the side of the road waved them down. Scott went out to talk to them. They asked, half in English and half in Swahili, why he gave them a backpack. Why did he care? Scott told them that he loved them and loved their children. They continued to ask Scott, "Why?" over and over and over again and poked at his chest, saying, "Why, as a white man, are you doing this? Many missionaries come here and preach to us and leave. But you left us hope. You helped us to feel and touch hope." As Scott continued to talk with them, he was able to share the gospel with them. Scott and the mothers put their arms around each other, and he prayed the sinner's prayer with them right there on the street as they gave their lives to Jesus.



After that experience, Scott realized what it meant to feel, to see and to touch the gospel. To those African mothers, that backpack represented hope—the hope of a better future and an education. It showed the hope of the gospel. Something as simple as a backpack can give an introduction to the love of Jesus. Backpacks For Africa started when Scott gave that first notebook to little Mary. Since then, we have given out thousands of backpacks and have shared the gospel with thousands more. Mary's Story has become a beacon of hope and an example of how meeting someone's needs can show the love of Christ.
About Sponsoring Sponsor A Child Today